The Trojan T2-C  Digital Mini Label Press runs remarkably quiet in operation for any facility.  The T2-C is an ideal system for brand owners, print shops and smaller label converters looking to add high resolution colour inkjet labels to their portfolio.
With a 0.37 square metre footprint, the T2-C easily fits into any size print department. The T2-C provides labels suitable for commercial use and prime labelling, printing at a superior print resolution of up to 1600 dpi. With a print width of 50.8 mm to 223.52 mm labels can be printed in multiples or as one large label in a print run. Its impressive print speed of up to 304.8 mm per second, allows users to generate extremely large runs in a short period of time.
Digital Mini Label Press – T2-C Features:
Straight-feed, short web path feature allows for precision printing and waste elimination
Servo-driven web handling and tension control system assures perfect media control
Dynamic web guide with servo-controlled unwind and rewind shafts, delivers high-precision registration, enabling full bleed printing on pre-die cut labels and tight, finished rolls
Advanced ink set and print head combination optimises print head life and ink consumption is reduced, lowering the cost of operations
High capacity ink tanks mean fewer interruptions during high production runs
The T2-C TrojanControl touch screen software makes it effortless to place labels on pre-die cuts in perfect registration. Its cost calculator makes it easy to review operating costs, with a job library to make label organisation simple. In addition, this intuitive interface allows the T2-C to be self-maintaining and automatically perform preventive print head cleanings with an innovative aerosol extraction system that keeps the area clean, even with the longer printing cycles.  Simple to setup and operate, the T2-C installs in 20 minutes with self-aligning tension control and no manual adjustments required.
Advanced T2-C ink set:
Prints approximately 500,000 100 mm x 100 mm labels at 50% ink coverage
5 times to 3 times increase in lightfastness
Significant improvement in water fastness
Improved production of black (K) with less use of Cyan, Magenta and Yellow
Approximately 10% lower TCO when compared with earlier previous ink sets
The T2-C is an ideal desktop label printing solution designed to give both owners and users peace of mind with the perfect combination of ease of use, precision, quality and reliability.
Metromatics proudly sell, service and support all of the Quicklabel's product range in Australia and we have been doing so for over 25 years and are excited to add the TrojanLabel Products to the mix.
Specifications for the Trojan T2-C High Volume Tabletop Digital Press
Operation:
Ink Type:Dye ink, (4) individual CMYK tanks or cartridge option
Resolution:1600 x 800 dpi or 1600 x 1600 dpi
Print Speed: 150 mm/sec or 300 mm/sec
Area of Print:Width: 223 mm; Length: 15 mm –1525 mm without stitching, unlimited length with stitching
Media Sensors:Optical tracking edge sensor, adjustable position. Black mark sensor, gap sensor and continuous
Connectivity:Ethernet 10/100/1000
Software: TrojanControl Software, Microsoft Windows® 10, 8, 7; Windows Server® 2012, 2008, 64/32-bit Drivers
Environmental & Physical:
Printer Operating: Operation: 15° C to 30° C at RH 22 to 80%(non-condensing)
Storage: 5° C to 50° C at RH up to 85%, noncondensing at 65° C
Power Requirements:100-240V AC – 50/60 Hz (360W, 2.5A power supply)
Aerosol extraction system:Yes, replaceable filters
Dimensions (with 250 ml internal ink cartridges, standard): 606 mm L  x 580 mm W x 595 mm H
Dimensions (with 2 liter external ink tanks, option):606 mm L x 580 mm W x 795 mm H
Touchscreen:7″ touchscreen
Weight: 60 kg without ink and label roll
Optional Accessories:250 ml cartridges or 2 litre tanks; RIP workflow/colour management software; Artwork designer software (Variable data)
Supplies:
Ink:CMYK tanks, 2 Litres each or 250 mL cartridge option
Maintenance Cartridge:Maintenance tray with replaceable modules (wiper roller/print head cap)
Ink Type:High performance, water-based dye inks with extra wide colour gamut that produce true-to-life colour when combined with QuickLabel approved media
Labels:
Width:50 mm –250 mm)
Length (Die-cut):15 mm –1525 mm
Thickness:4pt/mil to 12 pt/mil
Roll Size: 300 mm, 3″ (76 mm) core
Types:Paper, Inkjet coated gloss paper, PE, PET, PP
Warranty:
Printer:12 Month Manufacturer's Parts & Labour Warranty (excludes wear parts and supplies).
Full Customer Support from Metromatics
The T2-C comes with an one-year warranty. Metromatics has been selling and supporting Quicklabel Systems products in Australia for over 25 years. We will come to your location, install the T2-C and train your users to start printing labels and provide you with on-going support and guidance.
Works with a wide range of Paper and Inkjet Coated Glossy stocks and therefore, we hold a lot of this stock (along with the ink ) on our shelves in Brisbane to support our customers.
For more information on the Trojan T2-C High Volume Tabletop Digital Press, contact us
New T2-C Exit Roller (Optional Accessory)
The exit roller is an optional accessory (order able with an additional part number) for T2-C.  It enables the T2-C to integrate to a finisher, laminator or applicator.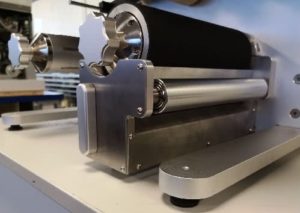 T2-C, as it is designed and sold today, is a complete roll-to-roll printing system where the blank media roll is loaded on to the unwinder roll and the printed media is rewound on a rewinder take-up roll built into the T2-C mini-press. For any post-processing of printed labels, the user needs to get printed media away in roll form from T2-C's rewinder roll after the complete print job is finished.
The exit roller accessory, when installed in T2-C, enables the continuous printed media to come out of the nip roller from where it can be directly fed into third-party party post-processing equipment. The exit roller also allows users to use the T2-C mini-press in roll-to-cut mode.
The most obvious post processing of printed labels is application of labels on product. The exit roller enables the printed labels to fed in-line onto a third-party party Label Applicator Unit that can apply labels on to product containers e.g. bottles, boxes, etc. coming off a conveyor belt.
However, there can be many other types of equipment in-between prior to final application of labels on to the product.  A few of these are listed below:
Laminator Unit – For laminating printed labels (or flexible packaging material that can also be printed on with T2-C)
Die-Cutting Station –
Inspection System –  Many labeling applications require 100% inspection using a Label Inspection/Vision system. The printed labels coming out of T2-C exit-roller can be directly fed into the Inspection system
And many more…
I/O Port functionality (Optional Accessory)
When integrating with a third-party party system or equipment, it may be necessary for that equipment to communicate to T2-C for speed adjustments and start/stop as necessary. This will enable in-line integration of T2-C with other equipment much like the integrations we have done with QuickLabel printers as shown in this video.
The I/O port functionality will become available as a standard feature for T2-C.  However,  for T2-C units already in the field will be required to order it separately in case they need to be retrofitted for this capability.
The installation process of exit roller is fairly straightforward.
Please note that we recommend a trained technician to do the installation of T2-C I/O port upgrade kit in the field.