Alta Data Avionics Software
Alta Data offer 4 different types of Avionics Software.  Software Package descriptions are listed below and if you click on each picture you will be directed to the appropriate page.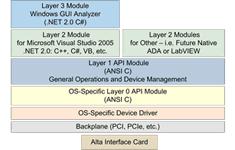 AltaAPI – Application Programming Interface providing quick porting to various operating systems.
Application Programming Interface – Fast, Portable Integration of Alta Products
Alta's 1553 and ARINC cards include the most advanced Application Programming Interface (API) library tools in the avionics industry, AltaAPI. The API architecture is a properly OSI modelled development package that provides an extremely flexible design to provide quick porting to various operating systems (such as VxWorks 5.X/6.X/7/MILS, Integrity, LynxOS RTOS), Linux 32- and 64-bit, Solaris 10, LabVIEW and 32- and 64-bit Windows 7/8/8.1/10.
AltaView Bus Analyser – MIL-STD-1553 & ARINC 429 Network and data analysis software.
AltaView reduces integration and test time – saving your project time and money
Alta's Windows avionics analyser product, AltaView, provides the most modern technologies for MIL-STD-1553 and ARINC-429 network activity and data analysis.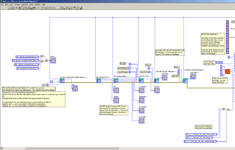 AltaAPI-LV – Integrates with National Instruments Labview & RT Support tools.
Advanced MIL-STD-1553 & ARINC LabVIEW Software
Most of Alta's MIL-STD-1553 & ARINC products include the industry's most advanced National Instruments' LabVIEW™ & RT Support Tools, AltaAPI-LV. Built in native NI LabWindows™ environment and PCI VISA drivers, Alta's AltaAPI-LV provides a unified NI tool for easy integration to LabVIEW, RT and LabWindows™ applications.
AltaRTVal – Protocol Validation Software
SAE AS4111/4112 Protocol Validation Software
AltaRTVal provides the most advanced MIL-STD-1553 COTS protocol validation tool in the industry, and helps prepare for Test Systems Inc Full SAE 4111 Validation. The software implements protocol tests for both the SAE AS4111 RT Validation Test Plan and the SAE AS4112 RT Production Test Plan. Ideal for testing new software revisions of current designs or manufacturing production units.
For further information contact us.