Data Acquisition System Conditioning & Control
Enclosure Details
The Data Acquisition System Conditioning & Control consists of four enclosures, which is part of the Series 6000 System:
Common Features of the Enclosures
Any number or combination of racks
Over 6 MS/s simultaneous sampling per system
Multiple, distributed system support
On-Board storage for data redundancy
Distributed Sample Clock, Alarm & Calibration Bus
IRIG A, B or G
Supports any I/O Module in any slot
I/O Modules
Series 6000 Input/Output Modules condition, amplify, filter and digitise signals from analogue and digital measurements for data display and recording.  Types include:
Strain Gauge
Bridge Transducers
ICP/IEPE
Temperature
Displacement
Position
Buffered Analogue Output for redundant recording
Custom Designed or reconfigured to fit applications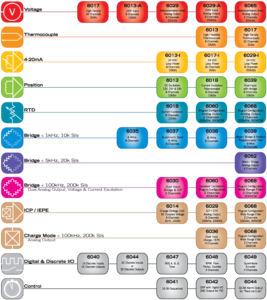 For specific information on Analog I/O Modules click here
For specific information on Digital I/O Modules click here
Software
The Pacific Instrument Series 6000 use PI660 Test and Measurement Software.  It is a turnkey application that runs on Microsoft Windows Operating System.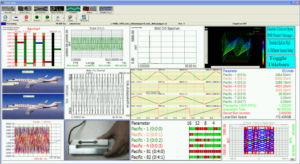 Pre-test operations include: system setup, test definition & tracking, system and transducer calibration.
Real-Time includes: display, acquisition & data distribution to display clients
Post Test Function includes: data replay & plotting, 3rd party formats for analysis
The PI660 has an application programmer's interface (API) and can be used by any software or development tools that can call a DLL.
To find out more about the PI660 Test and Measurement Software for the Pacific Instrument Series 6000 Data Acquisition System Conditioning & Control; click here
For more information or any assistance configuring your Series 6000 System, contact us