Built from a solid block of aluminium, the DEWESoft MINITAURs is a rugged and compact DAQ System. With footprint of only 266 x 139 x 109 mm, it is a perfect instrument for mobile and/or air-borne applications that requires a small but powerful, reliable data acquisition device. MINITAURs is expandable with battery packs BPi2 and BPi4 and compatible with all other front ends of the SIRIUS instruments.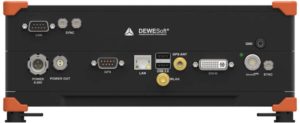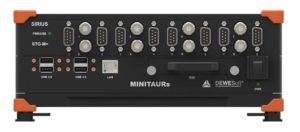 Main Features of the DEWESoft MINITAUR DAQ System include:
Integrated powerful PC computer
Universal sensor inputs (Strain, Voltage, Current, DSI adapters)
Internal Quarter- and Half-bridge completion
Programmable sensor excitation
Removable SSD
Expandable with SIRIUS
MINITAUR comes with a powerful integrated computer (Intel Core i3) and features standard interfaces such as LAN, WLAN, VGA and HDMI.   The PC provides four USB3 ports, additional two USB2 ports and removable SSD for fast data transfer.
Technical Specifications
| Analogue front End | | | | |
| --- | --- | --- | --- | --- |
| Inputs | Voltage, full bridge strain, 1/2 bridge strain, 1/4 bridge strain (120n and 350n), current (ext. Shunt) | | | |
| ADC Type | 24bit delta sigma dual core with 100/5 kHz analogue anti-aliasing filter (High Dynamic, up to 160 dB) | | | |
| Sampling Rate | Simultaneous 200kS/sec | | | |
| Dual Core Ranges (Low) | ±10V (±500mV) | ±1V (50mV) | ±100mV (±5mV) | ±10mV (±0.5mV) |
| Gain accuracy | ±0.05% of reading | | | |
| Offset accuracy (Dual Core) | ±5 (2) mV | ±0.5 (0.2) mV | ±0.1 (0.1) mV | ±0.1 (0.1) mV |
| Offset accuracy after Balance Amplifier | 0.2mV | 0.02mV | 0.02mV | 0.02mV |
| Typ. Dynamic [email protected] (Dual Core) | 137 dB (152 dB) | 137 dB (147 dB) | 130 dB (132 dB) | 112 dB (112 dB) |
| Typ. [email protected] (Dual Core) | 105 dB (121 dB) | 104 dB (111 dB) | 95 dB (95 dB) | 75 dB (75 dB) |
| Typ. CMR @ 400Hz (1kHz) | 86 dB (96 dB) | 96 dB (95 dB) | 110 dB (102 dB) | 110 dB (102 dB) |
| Input Coupling | DC | | | |
| Input Impedance | 10 Mn | | | |
| Overvoltage Protection | In+ to In-: 50 V continuous; 200V peak (10msec) | | | |
| Digital Filter (vs. Sample Rate) | 1kS/s .. 50 kS/s | 50kS/s .. 100kS/s | 100kS/s .. 200kS/s | |
| Bandwidth (-3 dB) | 0.494 fs | 0.49 fs | 0.38 fs | |
| Alias-free Bandwidth | DC to 0.42fs | DC to 0.32fs | DC to 0.22fs | |
| Excitation Voltage | Free programmable (16 Bit DAC) | | | |
| Predefined levels | 0, 1, 2.5, 5, 10 and 15 VDC | | | |
| Accuracy | ±0.05 % ±2 mV | | | |
| Sense Impedance to Exc / to GND | 100 kn / > 100 Mn | | | |
| Current limit | 45mA | | | |
| Protection | Continuous short to ground | | | |
| Bridge Connection Types | Full bridge, 1/2 bridge, 1/4 bridge (3-wire) | | | |
| Ranges | 2mV/V...1000mV/V free programmable with Dual Core | | | |
| Internal Bridge Completion | 1/2 bridge 1 kn and 1/4 bridge 120n and 350n | | | |
| Internal Shunt Resistor | 59.88 kn, software selectable (others on request) | | | |
| Input Short, Sensor Offset Adjust | Software selectable | | | |
| Counters (only on STGMv2+ type) | 1counter / 3 digital input, fully synchronised and alarm output | | | |
| Counter Modes | counting, waveform timing, encoder, tacho, gear tooth sensor | | | |
| Input Level Compatibility | CMOS, LVTTL | | | |
| Input Protection | ±25Volt continuous | | | |
| Alarm output | Open collector, max. 100mA/30Volt | | | |
| Sensor supply | 5V/100mA; 12V/50mA | | | |
| Additional Specifications | | | | |
| Input connector | DSUB 9, Lemo2B 8pin, Lemo2B 16pin (others on request) | | | |
| TEDS support | Standard + DSI Adaptors | | | |
For more information, contact us