EpiSensor's IIoT Platform features Gateway has an intuitive web interface – you can configure all aspects of your wireless sensor network quickly and easily. Connect the Gateway to your LAN (or mobile network with a 3G modem), join some wireless sensors (temperature, humidity, electricity, water, gas, pulse, analogue & more) and start monitoring!
Enterprise-class – EpiSensor's IIoT features as standard
EpiSensor systems have a unique combination of features and qualities that make them suitable for use in the most secure and harsh and commercial and industrial environments, while maintaining ease of installation and flexibility. All of our documentation is published, and you don't need any specialised training to deploy our monitoring systems.
Easy to Use
EpiSensor's IIoT features in the systems are designed from the ground up to be easy to install and use. Plug in their Gateway, go to a website from your laptop, phone or tablet, and start building.
Fully Secure
The data produced by their systems is often highly sensitive, and can directly relate to production levels, environmental conditions or occupancy. Their systems are fully secure from sensor to server.
Reliable
Data loss should never be acceptable. If there is a communications or power failure, EpiSensor's devices will log years of time-stamped data until the connection is restored.
Scalable
Deploy a small system with a single sensor or a city-wide communications infrastructure. Their systems will scale gracefully, and expand as your monitoring requirements do.
Standards Based
EpiSensor export data in open formats such as CSV, XML and JSON. This is essential if you need to integrate with enterprise systems, or simply decide to change software vendor.
Long Battery Life
EpiSensor have spent years in the lab perfecting the low power electronics techniques used in our battery powered sensors. 10 year battery life means little or no maintenance costs.
Accurate
When reducing energy usage, sometimes by single figure % points, it's essential that the data you collect is accurate. Their electricity meters are accurate to Class 1 (+/- 1%).
Rugged
EpiSensor's product enclosures are waterproof as standard. Install indoors, outdoors, in clean, dirty or harsh environments – that's one less design constraint to think about.
Developer Friendly EpiSensor IIoT Features
They produce accurate, real-time data in open formats – their systems are documented and designed to be integrated with. Start building exciting new applications today.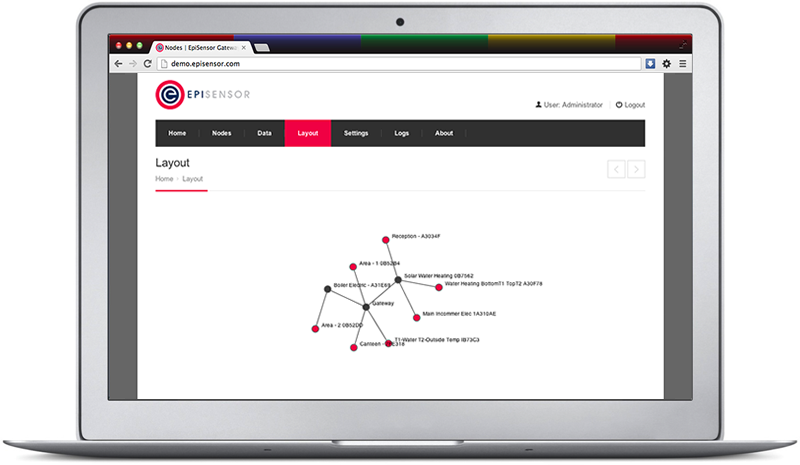 Intuitive Web Interface
Join new sensors, change network settings, re-name devices, configure data export, set up a 3G modem – all aspects of their system can be configured remotely via an easy to use web interface.
Designed for Mobile
When adding a new device, you can change settings and confirm signal strength from any mobile device as you walk around a site – iPhone, iPad and Android devices are supported natively.
Layout View
All EpiSensor IIoT features mains-powered nodes that will route data. Build strong and reliable mesh networks using the Layout View to confirm that each device has multiple redundant communications paths.
Allow Join
Adding new devices is easy. Start small and expand your monitoring system over time, no complex commissioning or system design required. Simply enable 'Allow Join' on the Gateway, and press a button on the new device.
Security from Sensor to Server
When building wireless sensor networks, privacy and security is not just an advantage – it's a requirement. The data produced by a monitoring system can directly relate to production in a factory, costs of utilities and occupancy in a building or home. It can also contain sensitive information about processes, environmental conditions and other proprietary information. It's essential that only the right systems and people can access this data.
EpiSensor implements Zigbee™ wireless security to the highest standards for the wireless sensor network. All data packets are secured with AES 128-bit encryption. When data reaches the Gateway which is password protected, it is stored temporarily in non-volatile flash memory and securely uploaded to the server using HTTPS or FTPS communications protocols. If the server's security certificates fail to validate, data will not be exported. Encryption keys for the network are stored within the radio transceiver of each wireless device and cannot be accessed even if a sensor or Gateway is stolen from a site.
Never miss another data point
Many wireless systems using less advanced communications technology can collect data intermittently, especially as an environment changes over time. This causes valuable data points to be lost – reports and graphs can be 'patchy' and the overall effectiveness of the system is reduced. EpiSensor's systems achieve best-in-class data quality using the following 4 techniques:
Intelligent Meshing
If (for example) a truck parks in a loading bay of a factory, and this changes the 'fabric' of the environment from a wireless point of view and causes a wireless device to loose network connectivity, the device will automatically scan the network and re-route data to the Gateway via the next best connection path.
Cumulative value storage
If an electricity meter is powered down, the kWh and other cumulative values will be stored in non-volatile flash memory on the meter. When power is restored, the cumulative values are restored, and will continue to clock up as normal.
Node-level logging
If the Gateway looses power, all wireless sensors on the network have capacity for 10,000 data points and will automatically switch into a logging mode. This time stamped data will be uploaded in the correct sequence when the Gateway is accessible again.
Gateway-level logging
If the Gateway's network connection is lost, years of time stamped data will be logged and uploaded to the server when communications have been restored.
Scale from a single node to a city-wide deployment
EpiSensor systems are built for scalability – a single gateway can accommodate many wireless 'nodes'. Each node can have multiple 'sensors' – for example our three phase electricity meter has 36 individual sensors which monitor kWh, voltage, current power factor etc. Each Gateway can accommodate thousands of these individual data feeds.
Wireless coverage can be increased using our range extender products, each of which increases wireless coverage by 1000m2 (10,700ft2) on average in a typical commercial / industrial environment. If limits are reached, add another Gateway to a site, connect it to the LAN or a 3G modem and continue to expand. A site can have a single Gateway, or multiple Gateways – all reporting data back to a central server for archiving and analysis.
Fully standards based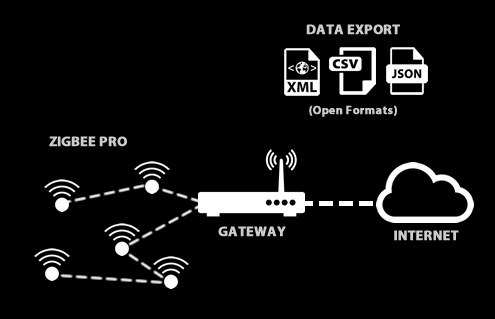 When investing in a monitoring infrastructure, it's important that the system is flexible so it can adapt to future requirements. Such as integrating with new software applications or existing legacy systems. In some cases it will be a requirement to integrate with more than one software application in parallel, each tailored to a different department with different needs such as facilities, finance and engineering.
Firstly, EpiSensor's systems export data in open, industry standard formats. Data can be manipulated. It can be taken into a web application or dashboard, imported to a database or archived in a data historian. Secondly, they support many software systems as standard. By using CSV, JSON and XML data export formats, and can develop custom 'data drivers' as required. Their wireless sensor network is fully Zigbee™ Pro compliant and their wireless products are CE and FCC approved.
Batteries that last the lifetime of the product
Firstly, EpiSensor have spent years developing their low power technology, which is incorporated in all EpiSensor battery powered devices. Achieve up to 10 years battery life from a temperature sensor, reporting data every 15 minutes. Secondly, this reduces maintenance requirements and overheads, while making the system extremely easy to deploy. Enable 'allow join' mode on the Gateway, press a button on the wireless device, mount it in the required location, and data will start flowing.
Thirdly, they use Lithium batteries that operate at extreme temperatures. Making the system suitable for deployment in chilled warehouses, food processing plants, and other harsh environments. Each device will report its battery level to the Gateway every 24 hours. When the battery level falls below safe limits, an alert can be configured. Finally, this will inform users that a battery needs to be replaced.

Accuracy that you can trust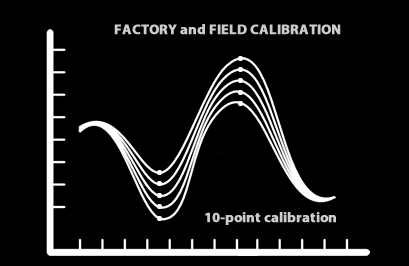 When sub-metering energy usage, it's important that the meters you use are at least as accurate as the utility meter . As the meter that decides what you will be charged each month. With some lower quality systems, the data that's produced is at best an estimate. Using accurate electricity sub-meters means you can confirm the utility meter itself is reading accurately. Legacy utility meters can drift over time or can become faulty. This could be costing your organisation a significant amount of money each month.
Finally, all EpiSensor electricity meters are individually calibrated to Class 1 accuracy (+/- 1%). Which means they will be more accurate than your utility meter. Their temperature sensors are highly accurate (+/- 0.2C). Therefore, they can be regularly field or lab calibrated via the Gateway to maintain this level.
To find out more about EpiSensor's Industrial IoT for Fridge Monitoring Products, please click here
Or Contact us for more information on EpiSensor's IIoT Features of their products.