New X3 Dewesoft Installers
Are you bored of manually downloading and copying extensions to Addons Folder?
So with the release of Dewesoft X3 SP5, Dewesoft have added some new and exciting features to their Dewesoft installer.  In reality, they built it from scratch with a completely new engine.
The new installer allows users to modify their installation.  So they can add or remove extensions directly from the installer using the "Modify" Option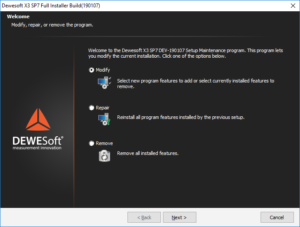 On and Offline Installation
Dewesoft X3 SP6 and SP7 have the option of using an online installation, which enables users to only download a small exe file for the installer and then the files that Dewesoft requires are downloaded during the installation.
Dewesoft realise that some users can not access the internet at all time.  The option to use offline installation is still available like it was before and not going anywhere.

Check for updates directly from Dewesoft
Dewesoft X3 SP6 and SP7 also have the option to check for updates within Dewesoft.  View the changelog and then perform the update. Once the user clicks on the "Check for updates…" button (in the Options menu) a changelog will appear with all the new features and bug fixes available in the new version.
The changelog was also updated. Instead of a long list of items, it is now divided into sections. Each section is a component inside Dewesoft (like FFT, Recorder, Settings,…) and has its own list of added features and fixed bugs – making it much more organised making it easier to read.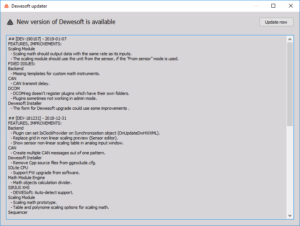 The Dewesoft X3 SP6 and SP7 installers feature a complete rework of the old installer.  If you have any issues,please report to our support team, so that we can pass them onto Dewesoft so they can resolve them as quickly as possible.
If you would like any further information, contact us.
To download the X3 Dewesoft Installers, click here