ARINC 429 Interface Cards
Alta Data are the specialists in providing ARINC 429 Interface Cards.  There a several unique models available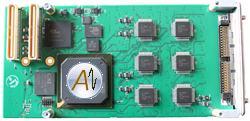 Key features of the ARINC Interface cards include
PCI, PCI Express, PCI ExpressCard, PCMCIA/PCCARD,
PMC/XMC, cPCI/PXI, PC104-Plus and More…
4-30 Channels – See Card Configuration. Selectable TX – RX or Fixed for Embedded.
Advanced 32-bit FPGA Protocol Engine: AltaCore.
Fully Configurable Bit Rate, Bit Encoding, Word Length, Start/Sync and Stop Bits.
ARINC-419/429/575/573/717.
Combine with MIL-STD-1553 Channels.
Dual RX and Full TX Frequency Control.
Signal Generator & Capture.
Archive & HW Playback.
Commercial or Rugged Conduction Cooled in some models.
For more specific model information, click on the image above or contact us for further information.