Alta Data has extended their popular Real Time Ethernet Converter (1553/ARINC) product line.  Introducing the eNETX-MA4, which has been developed for extreme vehicle environments and is ready for deployment now.  It has been designed and tested to MIL-704F/461F/810G and DO160Sec 22.
eNetX-MA4™ is an innovative product for "remoting" 1553 & ARINC-429/717 operations on 10/100/1000 Ethernet local area networks (LAN). eNetX-MA4 is a very small, low-power, rugged device that provides real-time UDP connectivity to for 1-2 dual redundant 1553 (A/B) busses and 4 ARINC channels.
Alta has combined the industry's most advanced 32-bit 1553 FPGA protocol engine, AltaCore™, with a real-time IP/UDP thin server. The customer can implement their application with the same feature-rich application programming interface, AltaAPI™, as used with standard cards – often without even recompiling – the ultimate in code portability.
Features include:
One or Two Independent, Dual Redundant 1553 Busses (Optional)
Four ARINC-429/717(2) Channels (Optional)
Tested to MIL-STD-704F/461F/810G and DO160 Sec 22
Thin-Server, Real-Time UDP Ethernet
Abstract API or Straight BSD Sockets (For Your Compliant DO178 OS)
FPGA Real-Time State Machine – No Processor or Stack – Virus Proof
Auto BM/RX Bridging Mode for 1553/ARINC->Ethernet Monitoring/Recording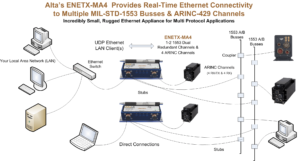 **NOTE: eNetX-MA4 (server) is a real-time Ethernet/1553 device, but your computers' (client) IP stack may not be! The eNetX-MA4 device provides real-time UDP receive and transmit requests (<10 uSecs) to data buffers, but the client's IP/UDP stack will induce path delays as compared to backplane cards. For most applications, this product will provide unparalleled flexibility in avionics configurations (much better than USB devices). Contact Alta for test results on various OS and computer configurations – your system results may vary.
Optional J1 and J2 Cable Assemblies Provided – Please See Part Numbers Above.
For further information on the eNetX-MA4 Real Time Ethernet Converter, contact us.