Metromatics has delivered and installed their MetroSpec Branded LCD Bus Stop Technology.  This revolutionary LCD Digital Bus Stop Totem not only provides real time passenger information to the commuters of Adelaide.  It also contains an inbuilt voice annuciator and hearing loop to assist those who are visually or hearing impaired.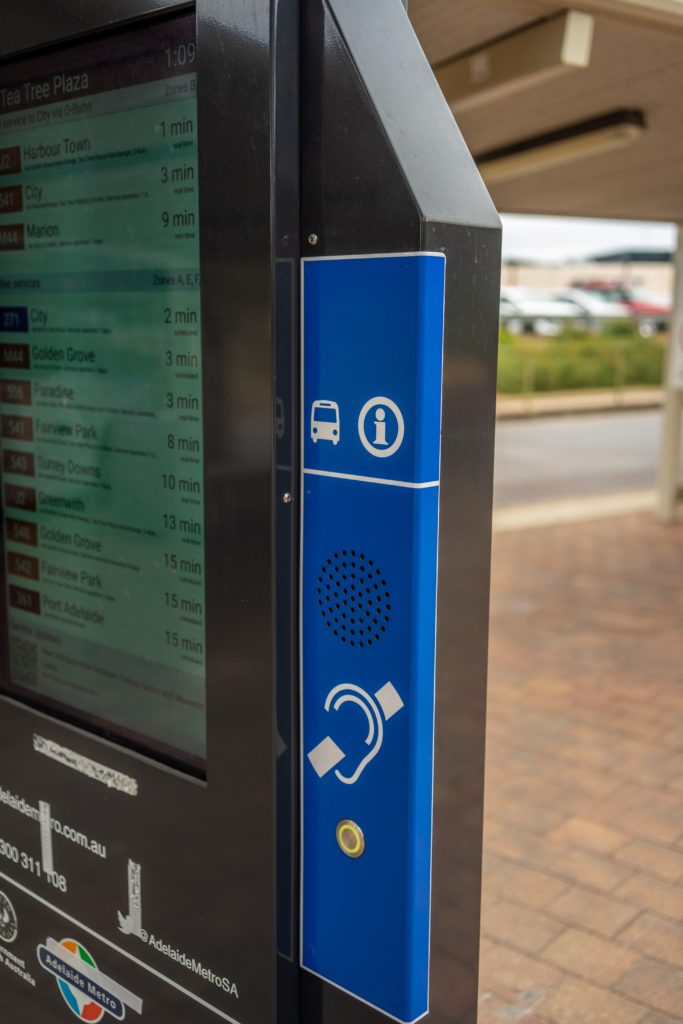 This Bus Stop Digital Signage is an outdoor digital alternative.  Ideal for installation on the street for bus, tram and light rail stops.
The real difference with this type of technology is
Capable of displaying Real Time Information and Service Announcements
Built to meet Disability Discrimination Act – provide a service to those requiring hearing assistance (hearing loop) and visually impaired (Text to Voice) services
Our hearing loop system encompasses proprietary technology of an inbuilt coil and provides a strong signal with little interference
 Infrastructure costs are reduced due to the inbuilt coil.  This is because it does not require a perimeter to be dug  into the floor
Australian Designed and Manufactured
Firstly, this totem features a sunlight readable 32″ display and provides readable passenger information in all weather conditions. Secondly, the MetroSpec LCD Bus Stop Totem has an inbuilt wireless PC which allows it to connect back to existing real-time passenger information networks.  Therefore, information can be modified or updated if there are any network disruptions.
For more information on this product, click here to be taken to our MetroSpec Product page or contact us.