Alta Data are the specialists in ARINC 429 Interface Cards.  Also, there are several unique models available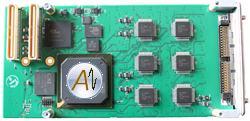 Key features of the ARINC Interface cards include
Firstly, look at all these different form factors –  PCI, PCI Express, PCI ExpressCard, cPCI/PXI, PCMCIA/PCCARD, PMC/XMC, PC104-Plus and More…
4-30 Channels – See Card Configuration. Selectable TX – RX or Fixed for Embedded.
Secondly, they have advanced 32-bit FPGA Protocol Engine: AltaCore.
Fully Configurable Bit Rate, Bit Encoding, Word Length, Start/Sync and Stop Bits.
Also, Combines with MIL-STD-1553 Channels.
Dual RX and Full TX Frequency Control.
Signal Generator & Capture.
Archive & HW Playback.
Commercial or Rugged Conduction Cooled in some models.
ARINC-419/429/575/573/717.
Contact us for further information or click the ARINC 429 Interface Card Image above for model specific specifications.