Application Summary on Robot Joint Control Measurement
Versatile and adaptive robotic armatures have the benefit of increasing manufacturing productivity.  Firstly, by automating and performing complex, repetitive tasks 24×7. Secondly, the arms are trainable.  Or operate as a team as cooperative robots (cobot/co-robot). Driving these arms in their joints are servo or stepper motors. In addition to monitoring shaft position, these arms need to monitor torque output for smooth, steady motion. Therefore, by combining these motors with a reaction torque sensor, control loops can be developed for smooth, autonomous operation.
Products in Use
A FUTEK TFF Series Reaction Torque Sensor paired with FUTEK Amplifiers (IAA Series or IDA100).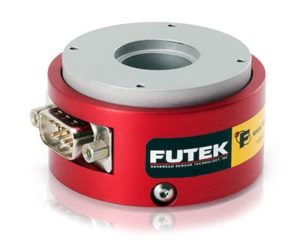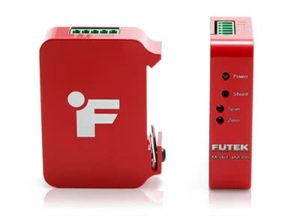 How Robot Joint Control Works
Mounting the TFF Series Reaction Torque Sensor is between the robot arm servo motor and its mounting points.
The torque sensor measures the torque outputted during arm movement which is then amplified by the IAA Series or IDA100 amplifier.
The PLC or robotic arm controller receives the amplified signal, providing precision feedback and closing the control loop.
Additionally, the output can be monitored. Plus the FUTEK's SENSIT™ Software can digitally adjust.
Finally, for more information on Robot Joint Control using Sensors, contact us.
About FUTEK Advanced Sensor Technology
FUTEK Advanced Sensor Technology, Inc. is an innovative leader in the design and manufacture of sensors and test and measurement instruments. Firstly, the Sensor range that FUTEK specialises in includes: load cells, torque sensors, pressure sensors, multi-axis sensors, and related instruments and software.
Secondly, founded in 1985.  FUTEK provides Aerospace and Defence, Pharmaceutical and Medical, Engineering, Research and Manufacturing markets.  With in-house customisation, engineering, integration, calibration, product life-cycle planning, warranty, and support services.
In addition, FUTEK's product quality and in-house support is brilliant.  All products manufactured at the company's Irvine, California USA factory; facility certified to ISO 9001:2015 & ISO 17025 accredited quality management standards.
Finally, Metromatics proudly back up the FUTEK product range.  With local knowledge, service and support to our customers in Australia and New Zealand.