This EtherCAT Interface applications post was provided by our valued partners DEWESoft.
NEW APPLICATION AREA: ETHERCAT® INTERFACE TO 3RD PARTY SYSTEMS
DEWESoft SIRIUSe and KRYPTON® Data Acquisition instruments are compatible with 3rd party EtherCAT® masters. This allows many new applications such as:
Control system front-end
Real-time data output with minimum latency directly from the SIRIUS or KRYPTON® hardware to the EtherCAT® bus hosted by a 3rd party real-time EtherCAT® master.
Application example: SIRIUSre slices in the R8rt (more info below) are used as signal conditioners in a rocket test control system, providing real-time data from analogue sensors directly to the EtherCAT® bus for the 3rd party control system. In parallel, the SIRIUSre slices also provide data over USB to Dewesoft X software for recording.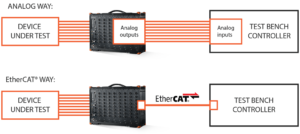 Digital interface to 3rd party test benches
Instead of acting as an AD/DA signal conditioner with low level analogue input and high level analogue output, SIRIUSe and KRYPTON®instruments can provide acquired samples in digital form to the test bench control and DAQ system if it supports EtherCAT®. This reduces cost for the customer by requiring only a single cable from the SIRIUSe/KRYPTON® chain to the test bench controller. This eliminates the need for a high level analogue input stage on the controller side.
Application example: SIRIUSre slices in the R8rt (more info below) are used to acquire the response of a specimen on an automotive road-load data test bench. Data with constant delay from approximately 100 channels is sent to the test bench controller over EtherCAT® providing the feedback for drive profile generation.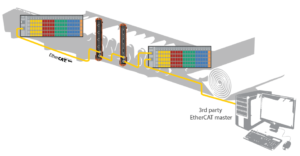 High-end signal conditioning for a PLC
High-end signal conditioning for a PLC EtherCAT is a backbone of many industrial PLC systems, forming a long chain of EtherCAT slave devices to control a production or test process. SIRIUSe and KRYPTON® instruments can be used in any EtherCAT®, providing the system integrators with unmatched signal conditioning capabilities in the PLC world.
Application example: KRYPTON® instruments are used in temperature chambers of a test facility to provide high-accuracy temperature measurements to a 3rd party PLC system. The levels of accuracy, drift and isolation of the KRYTPON® modules are unique in the PLC market.
R8RT – A special version of the DEWESoft R8 with EtherCAT Backplane for 3rd Party EtherCAT Master Interface
R8rt (rt for real-time) includes a backplane EtherCAT® port. The port is a direct gateway to the SIRIUSre slices, bypassing the SBOX. Real-time data from SIRIUS hardware can be transmitted on this port to the 3rd party EtherCAT® master.
EtherCAT® backplane brings the versatility of the R8 even further as it can be used in many ways:
High channel count test bench data acquisition,
Real-time signal processing for 3rd party controller feedback (over EtherCAT®) and
Compact size high performance data logger for in-vehicle use.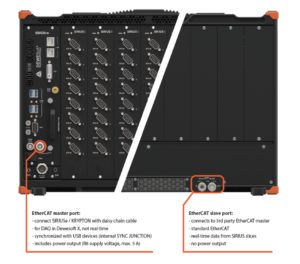 R8rt wiring example: R8rt interfacing over EtherCAT® to an automotive test bench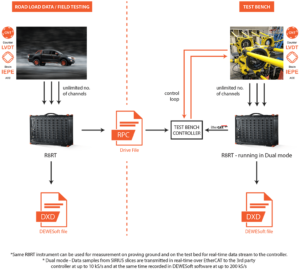 When purchasing the R8rt instrument keep in mind the following technical details:
The front side EtherCAT® port on the SBOXre is a master-side connector; additional KRYPTON® or SIRIUSe slices can be connected to this port for accessing the data in Dewesoft on the SBOX, not in real-time
The backside EtherCAT® port is a slave port (hence IN and OUT connectors), allowing real-time data feed from the SIRIUSre slices inside the r8rt to the 3rd party EtherCAT® master
There is no physical connection inside the r8rt between the front and back side EtherCAT® ports and they are not meant to be connected together by a cable
In order to be accessed by the backside EtherCAT® slave port, the SIRIUS slice has to be an EtherCAT® rack slice, designated SIRIUSre; those slices do not have aCAN port
R8rt is not a real-time controller; it can be a real-time front end of the control system
DEWESoft Dual Mode
SIRIUSe instruments can use EtherCAT® and USB interfaces to provide real-time data to a 3rd party control system and full-speed data to Dewesoft X software in parallel. This makes the SIRIUSe a unique instrument that can be used in the control loop and as a DAQ recording device at the same time, saving enormous cost for the customer and providing detailed insight into the process data.
Typical Dewesoft Dual Mode applications include:
SIRIUSe as an analogue-to-EtherCAT® interface on a test bench with 3rd party EtherCAT® master and DAQ device for recording the data in Dewesoft X software
SIRIUSe as an analogue-to-EtherCAT® interface in a PLC configuration and condition monitoring device with high frequency dynamic analysis in Dewesoft X software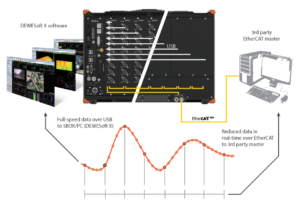 So why use the new RTR8?
EtherCAT® solution will save you cost on cables and analogue controller stage
R8 has the advantage of being a portable all-in-one instrument that you can take in the car or use at the test bench.
Dewesoft software allows simple EtherCAT® configuration export which is otherwise done with a third party software – as always the software solution is easy to use.
the total solution of Sirius instruments and R8 with EtherCAT®output allows the application of dual mode: data acquired at full speed in Dewesoft software and data output in real time over the EtherCAT® bus to the third party controller software.
Want to find out more about the DEWESoft Sirius, Krypton or RTR8?  Contact us now